Every year, during an Official Award Ceremony, all speakers (Lecturer, PhD Student, Workshops or Invited Session Speakers) receive a Certificate of Attendance given personally by one of the Scientific Chairmen of the conference. Best presenters are being awarded with special CRYSTAL AWARD and CERTIFICATE!
SGEM CERTIFICATE AWARDS
During the 7 conference days the audience will be encouraged to give its vote to the best presentations by filling a nomination form. At the same time, session chairmen will have the hard task to evaluate each presenter - they should fill in evaluation form and forward it to the Scientific Chairmen. As a final result, authors of the highly evaluated and most nominated presentations will be awarded with a AWARD CERTIFICATE and a SPECIAL CRYSTAL PLAQUE.
We look forward to receiving your interesting papers and very captivating presentations.
Eager to welcome you all, we are expecting with great interest your new researches and scientific achievements!
---
BEST PRESENTATION AWARDS, 18th International Scientific GeoConference SGEM2018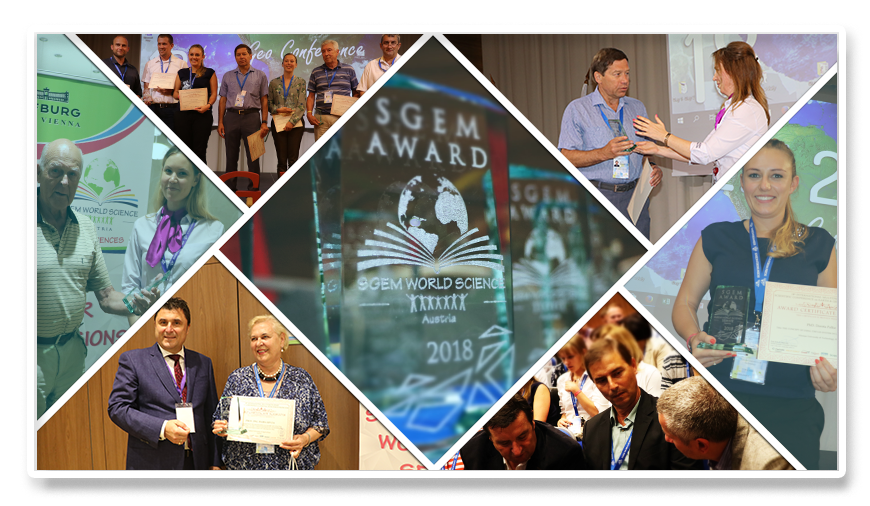 PhD Vitali Shekov - Institute of geology of KarRC RAS, Russia
PhD Maria-Lidia Nutu-Dragomir - Institute of Geodynamics of Romanian Academy, Romania
Mr. Alexander Nikiforov - Institute of Geology Karelian Research Centre Russian Academy of Sciences, Russia
Phd. Dino Dobrinic - University of Zagreb, Faculty of Geodesy, Croatia
PhD. Dorota Palka - Silesian University of Technology, Poland
PhD Yury Koshlich - Belgorod State Technological Univercity named after V.G. Shukhov, Russia
Ing. Lukas Zizka - Brown Coal Research Institute j.s.c., Czech Republic
Prof. Witold Pytel - KGHM Cuprum Ltd, Poland
PhD Cristian Tomescu - National Institute for Research and Development in Mine Safety and Protection to Explosion - INSEMEX, Romania
Prof. DSc. Petr Martyshko - Ural Federal University, Russia
PhD Begum Civgin - Ankara University, Turkey 
PhD Ilias Fikos - Aristotle University of Thessaloniki, Greece
Mr David Grenar - Brno University of Technology, Czech Republic 
Mrs Youngmin Lee - Seoul National University, Korea South